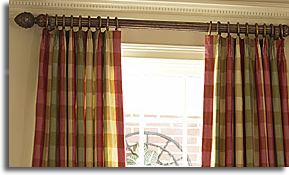 It's all about getting precisely what you want.
Whether you plan to install your draperies yourself or prefer to have help, we have a wonderful way for you to get the exact measurements you need to position your rod and install your draperies. Just use our online drapery planner, follow the simple steps and you're ready to order your draperies through your Casa Fiora retailer.
When you receive your draperies, you'll find "Fiora's tips for keeping your draperies in pristine shape" to guide you. In this booklet, you'll discover "Professionally Dressed Window Tips" to show you how to get a professionally installed appearance. You'll also find tips to keep wrinkling and creases to a minimum plus care guidelines for maintaining your draperies.