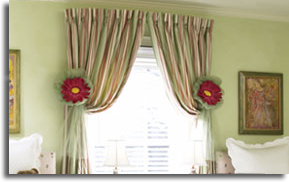 What the pros know can make all the difference.
Every business has its trade secrets - special tricks for achieving the best effects. Because we want you to enjoy your draperies to the fullest, here are some of Fiora's most helpful tips.
Draperies can be extremely formal or very casual - it all depends on your taste and how you choose to design them. The fabric, pleating, length, and enhancements you choose come together for a wide range of looks.
The location of your rod makes a difference in the look as well:
To make your room seem larger and to get the effect of higher ceilings, place your rod closer to the ceiling.
For a style that's popular now, place your rod midway between the top of the window and the ceiling.
For a traditional/classic look, place your rod directly above the top of the window.
Be creative with the color of your draperies. A bright color or interesting pattern can make a neutral room the most dramatic room in the house. A soft color can bring a touch of femininity to a dark, masculine room. And consider how the colors in your draperies can pick up on different upholstery, pillows, table skirts and rugs to tie everything together.
Visit your local craft store and create your own signature piece, such as these flower tiebacks shown in the girl's room above.